The bad news first: I sent my newly crowned champion girl Grace to the Seattle area to be bred to an outstanding champion stud at Aurealis Collies. Looking at Grace and Chandler, it was an excellent match physically and by studying their combined pedigrees. Sadly, Grace did not take. This is a common pitfall in breeding collies. Sometimes breedings don't work. It's a big disappointment. The good thing is that Grace is fine, and we will try breeding her again when she comes in season in the spring.
I have no other girls bred or expecting puppies, but I have some breeding plans in the works. We might have some puppies in the spring or summer of 2023.
We did have a fun outing at the Conroe shows in December. My daughter Caitlin and I mainly went to visit friends and support the show entry. We had a nice surprise when Caitlin won a four point major, and best of winners placement with Grace's two year old daughter Annie. Caitlin grew up with collies, but only recently decided she wanted to show. Annie has been to a few shows, but wasn't very happy in the show ring. She is more of a cuddle on the couch girl. Caitlin and Annie have a special bond, and as Caitlin worked with Annie, Annie gradually became more comfortable. It was Annie's second birthday at the Sunday show, and Annie decided she would play dog show for grilled chicken. Annie found favor with the judge and won winner's bitch, and best of winners in a beautiful group of collies. It was Caitlin's and Annie's first major win- making it an extra fun weekend.
It's been a little crazy here with Christmas, New Years and a trip to the hospital, but things are almost back to normal now. I am looking forward to some of the collie specialty shows coming up. It's always fun to spend time with good collie folks and see their show prospects.
Here is our Willa/ Landon daughter- Bee ( Tairis & Cherann's Prairie Song)/ We are taking her to the Austin Collie specialties coming up. Bee loves dog shows!
***************************************************
Margie Blount and I went together to buy a sable and white puppy boy from Susan Joslin. Willie is a son of GCH Cherann's Cherokee On Sacred Ground out of GCH Alcor Twisted Sista. We hope Willie (Alcor Tairis Commander In Chief) will be a fun boy to show. He is a very cute boy with a great, happy temperament. Willie's having a good time with the gang at Margie's house.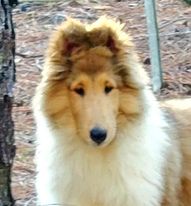 Susan Joslin has two tricolor brothers of Willie available in Kansas. They are beautiful – with the same happy temperament as Willie. Check my available page for more info.