Tracer
Tracer, aka- Cherann's N Tairis Time N Again is a beautiful daughter of Ch Wyndlair Cherokee Exclamation and Cherann's No Stranger To Luv, bred by Cheryl Kobularcik. Tracer excels in type and beauty but is not overly fond of dog shows. Her gorgeous brothers are carrying the show banner for Cherann's Collies. Landon- aka- GCH Cherann's Cherokee on Sacred Ground is breathtaking, as is their tricolor brother-  GCH Cherann's Thunderation. Tracer is now living with Tricia and Scott at My Dream Collies in Missouri.
---
Layla winning a 5 point major!

Layla's Patton babies
Layla, aka- Ch Cherann's N Tairis Share the Luv is a beautiful tricolor bred by Cheryl Kobularcik and Susan Joslin. She is a daughter of Miguel (Ch Cherann's No Stranger To Luv) and Marty (Ch Alcor With A Twist). Layla is now being spoiled by a 13 year old boy– living the good life in New Orleans.  
---
Ch Cherann's Tairis So Melodramatic is our little powerhouse smooth girl bred by Cheryl Kobularcik. We co-own Melody with Cheryl. Melody is special in all kinds of ways. She is elegant, very sound, and is quite a character. Her name is right on. She should get an Academy Award for some of her performances.
---
Kenna
Tairis Persistent Witness (Kenna) She is by Ch Con-Te Divine Simply the Best out of Schaladon Crystal Ice. She was born in Feb of 2009. Kenna is a granddaughter of Tina and Larry's top winning blue smooth girl- Ch Divine's Simply Out of the Blue (Harley). She is now retired and lives with her family in New Mexico!
---
Castle
Castle, aka- Ch Monarch Cornerstone, is a big, sweet, handsome boy from Monarch Collies in Washington State. He is now semi-retired and living with a great family near us.
---
Carina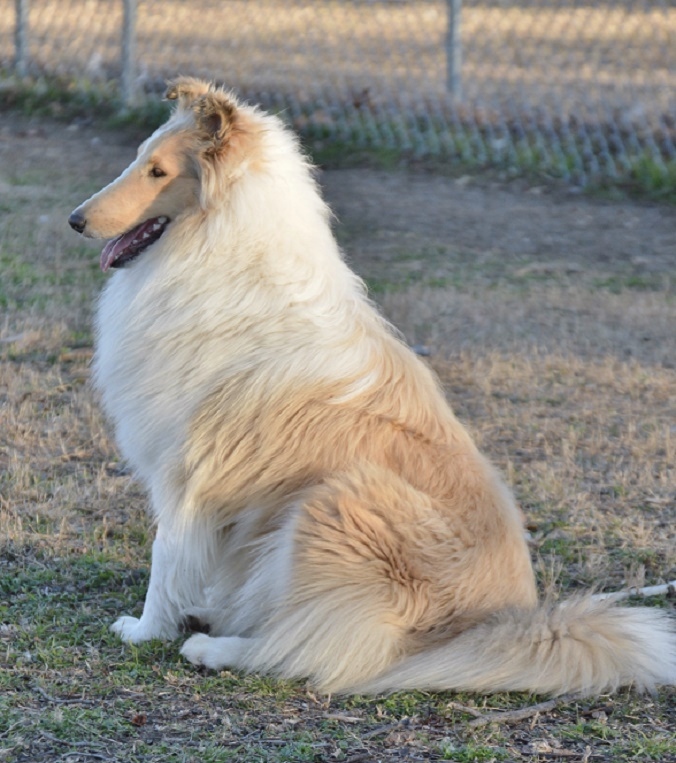 Carina is the beautiful girl we obtained by leasing one of our favorite collies- Ch St. Roch's Moonlight Serenade, who was bred to Bridgit's son- Ch Avalar Tairis Autumn Gold. Carina was not fond of showing and had some difficulties with her only litter. Carina was placed in a perfect home in our area with her aunt- one of Bridgit's daughters. It was hard to let Carina go, but I know her owner loves her as much as we do, and she is happy there.
---
Allison
Allison is a sable beauty from Bridgit's first litter by Miguel. Allison's is a heartbreaking story I can't really tell. She left us as a pup and when we got her back later her opportunity for showing was past. Allison's story does have a happy ending though. She lives with an active, retired couple that take her everywhere on their RV adventures.
---
Onyx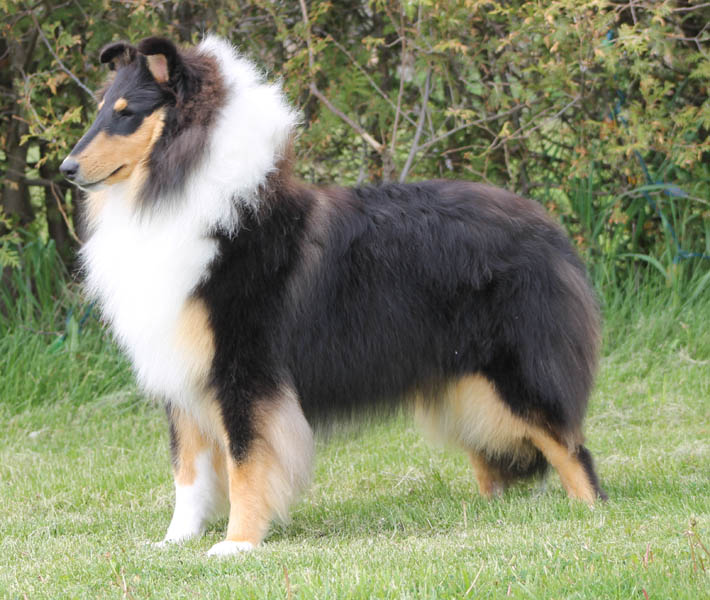 Onyx- aka- Glasgowhill Midnight Onyx is a normal-eyed, tricolor beauty from Glasgowhill Collies in Canada. Onyx liked me and my daughter, but never warmed up to my husband or son. We were able to retire her locally in a wonderful home.
---
Stormy
Stormy, – aka- Cherann's Cryptic Storm- is a lovely girl as sweet as they come. She was called Cryptic Storm because she looked like a tricolor with only a couple of small blue patches that made her a merle. I just loved this girl. She had a litter by Lakewind's Bend It Like Beckham. We didn't get show winners in the litter, but everyone that got a puppy was super happy with the temperaments.
One special tricolor puppy girl went to Kristin Parma and has become a performance star. Kristin named her girl Czechout Calamity Jane. Kristin and Jane have so many titles I can't keep up with them. It seems Jane conquers everything she and Kristin take on. She has numerous agility titles, some obedience titles, a herding certificate and even passed the Barn Hunt test. On more practical matters it seems Jane makes herself useful on the Czech Out Ranch with various duties although I think her friendship with Kristin is her favorite task.