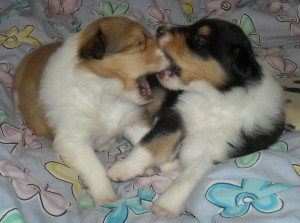 I've loved collies since I was a kid watching Lassie and Timmy on a black and white TV! I think they are the most beautiful dogs on Earth both inside and out. My mother and grandmother were both collie fans caught up in the stories by Albert Payson Terhune. My mother bought our first collie when I was seven or eight years old. Tuffy was one of the greatest friends I've ever had. Through my childhood, Tuffy was always ready to play, and was equally content to lie beside me in our yard as I watched the clouds float by. But when needed, he was a natural guardian and cow herder. Collies are adaptable, sensitive, intelligent. I have found them to be exceptional companions.
The AKC Collie Standard provides a very good word picture of collies. The illustrated collie standard has excellent drawings showing ideal collie type and comparisons of various visual faults and virtues. The standard can be found on the AKC or Collie Club of America websites. To me, the collie is a medium/large dog with a unique head. The head is rather long and lean but also a blunted wedge with a nicely filled muzzle. The body is longer than tall, and graced with beautiful curves, and angles– with nothing over done. A collie in good condition is nicely muscled and capable of agile movement. One of the most endearing features of collies is the sweet, expressive face the breed is known for. True collie expression is hard to explain, but easy to love. And if they weren't wonderful enough already, collies come in a lovely assortment of colors and markings in both rough and smooth coats. Here are some examples of collie colors from my extended collie family, or friends of the family.
---
Sables
Thanks to Lassie- almost everyone loves collies in traditional sable and white.  But sables come in beautiful variations from light straw to deep mahogany.  To complicate things a little, collies also come in sable merle. Sometimes sable merle collies are hard to spot, and sometimes they are quite spotty! And like all the collie colors – they may be white factored- evident by ample white markings. Whether the white markings are abundant or sparse, collie beauty shines through.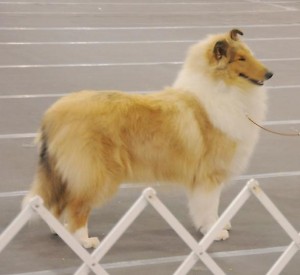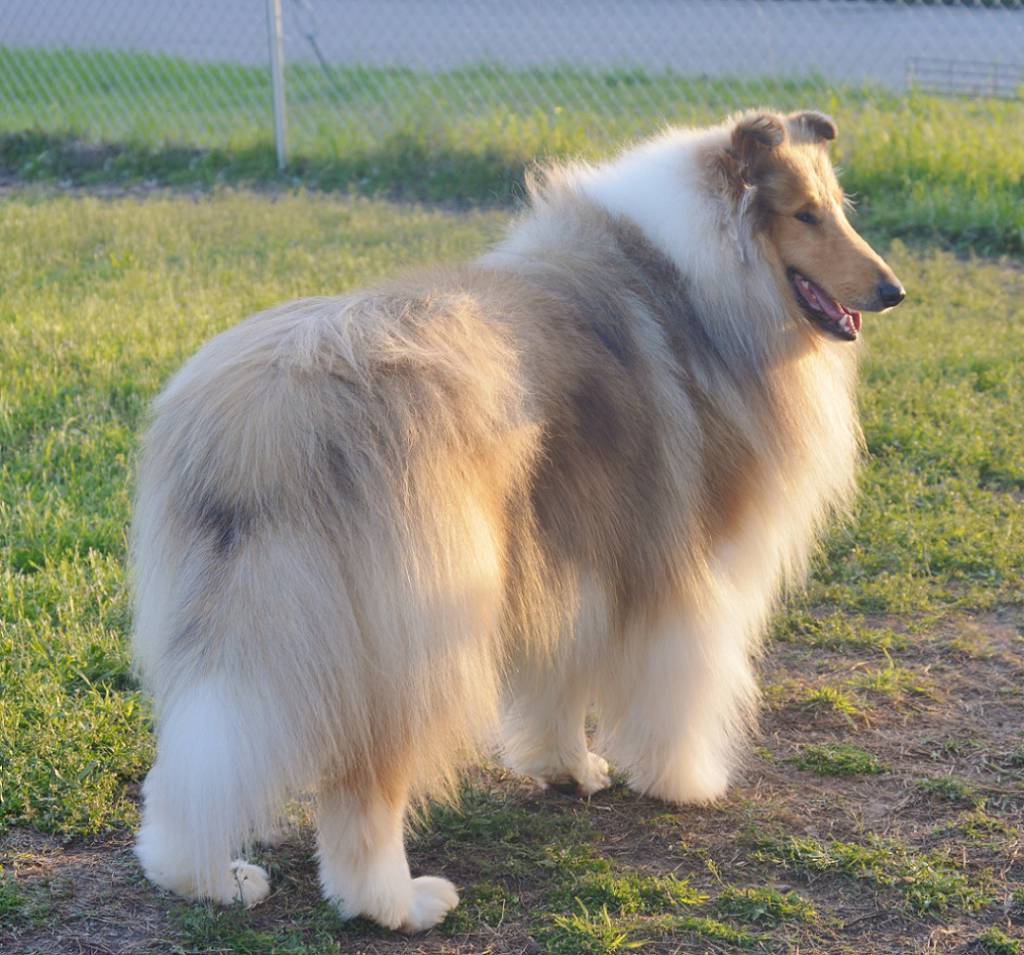 ---
Tricolors
Tricolors are black, white, and tan – white factored, or not.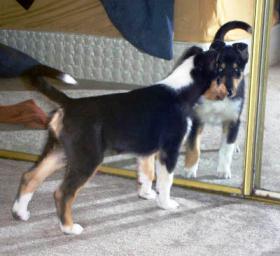 ---
Blue Merles
Although some of the prettiest collies I have ever seen were blue merles, they have been scarce at our house.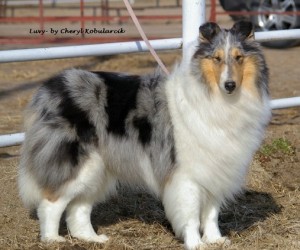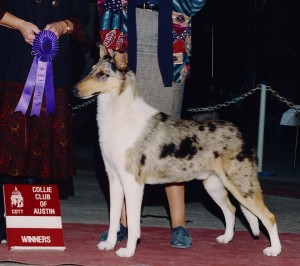 ---
Whites
Collies also come in WHITE!  Normal white collies have heads and usually a few colored body spots in the usual collie colors. Some beautiful white collies are making their marks in the show rings. I am very fortunate to be a co-owner of Amber. She is a sable merle marked white with more than an average amount of color for a white collie. It didn't hold her back though. She finished her championship quickly at 14 months old with 3 specialty majors, shown by Lea Bertsch.