January through March is usually when rough Texas collies have their prettiest coats. That is usually when we have the most shows going on around here. Dog shows- like almost everything- have been affected by COVID, but Texas has started to gradually get back into having shows again. Many dog show clubs around the country have not started having shows again, but many Texas clubs are moving forward. Because Texas was one of the few places in the USA having collie specialty shows, collie people from all over the USA came to some of our recent shows.
The South Texas and San Antonio Collie Clubs put on four shows in New Caney, Texas in February 2021. There was an impressive number of collies there and some of the nation's top ranked collies. It was exciting to see these famous, beautiful collies at our Texas shows.
Amber's daughter Queen won a four point major at the South TX Collie Club under collie breeder judge, Linda Davis, of Gambit Collies. Collie breeder judge Lily Russel selected Queen as her reserve winner's bitch. They were very exciting wins, especially considering the level of competition there. Queen, aka Milas Tairis Bohemian Rhapsody, is owned by Debbie Jones, and Elaine and Steve Spaulding. Queen lives with the Spauldings in South Texas where she is indeed treated like a queen. Queen was shown at these shows by Corey Lambert – who did a wonderful job grooming and showing Queen.
Queen had been in season shortly before the February shows, and right on schedule she began to blow her coat. That is one of the things that makes showing female collies challenging – they lose their coats within a couple of months after they are in season or have puppies. It makes it harder to get championships on girls.
After the South Texas shows, we had our big freezing snow storms in Texas which I mentioned in a previous blog. It was definitely a time we won't forget. Steve and Elaine's home was badly damaged, and they had to move into their travel trailer for awhile with their three dogs while repairs were made. Under trying circumstances, they managed to get Queen and their other two collies ready for the next dog shows in March in Kerrville, TX.
Queen won her second four point major in Kerrville under judge Dana Cline, shown by Brian Livingston. Queen got a 4 point major reserve win under judge Debra Long Gschwender, and another four point major reserve win under collie breeder judge Deborah Falk of Aurealis Collies at the Collie Club of Austin show. We are so proud of Queen being recognized among a lot of beautiful collies.
After Kerrville, Queen just needed three single points to finish her AKC championship. She won all three days at the Navasota, TX shows, going best of winners and twice best of opposite sex over a champion to get her last three points. Now we can call the queen- Champion Milas Tairis Bohemian Rhapsody! Yay!
Now Elaine and Steve plan to try Queen on some performance activities like obedience and herding, etc. Having fun with your dog always makes for a good day!
Not to be left out- Toby- our tricolor smooth son of Melody (Ch Cherann's Tairis So Melodramatic), sired by Samson ( Grand Champion Platinum Scalloway's Lion Hunter) also finished his championship this month at the Kerrville shows and got 2 points towards his grand championship. Toby is very handsome and moves like a dream like both his parents. Congratulations to his co-owner Lea Bertsch who trained him well. Toby is retired now and available to a nice, quiet, family without other male dogs.
UPDATE 04/01/21:
The cute blue puppy we called Christmas Carol from our December 2019 litter from Leena (Ch Alcor N Cherran's Entwined) sired by Jagger, (Scarborough Jagged Edge), is all grown up now, and AS OF TODAY, APRIL 1, 2021 SHE IS A NEW CHAMPION! * pending AKC confirmation! Christmas Carol is now called Sally, aka Alcor Do The Twist, by her owner Susan Joslin of Alcor Collies. Sally has been shown by Susan and was finished by our friend Jay Lee.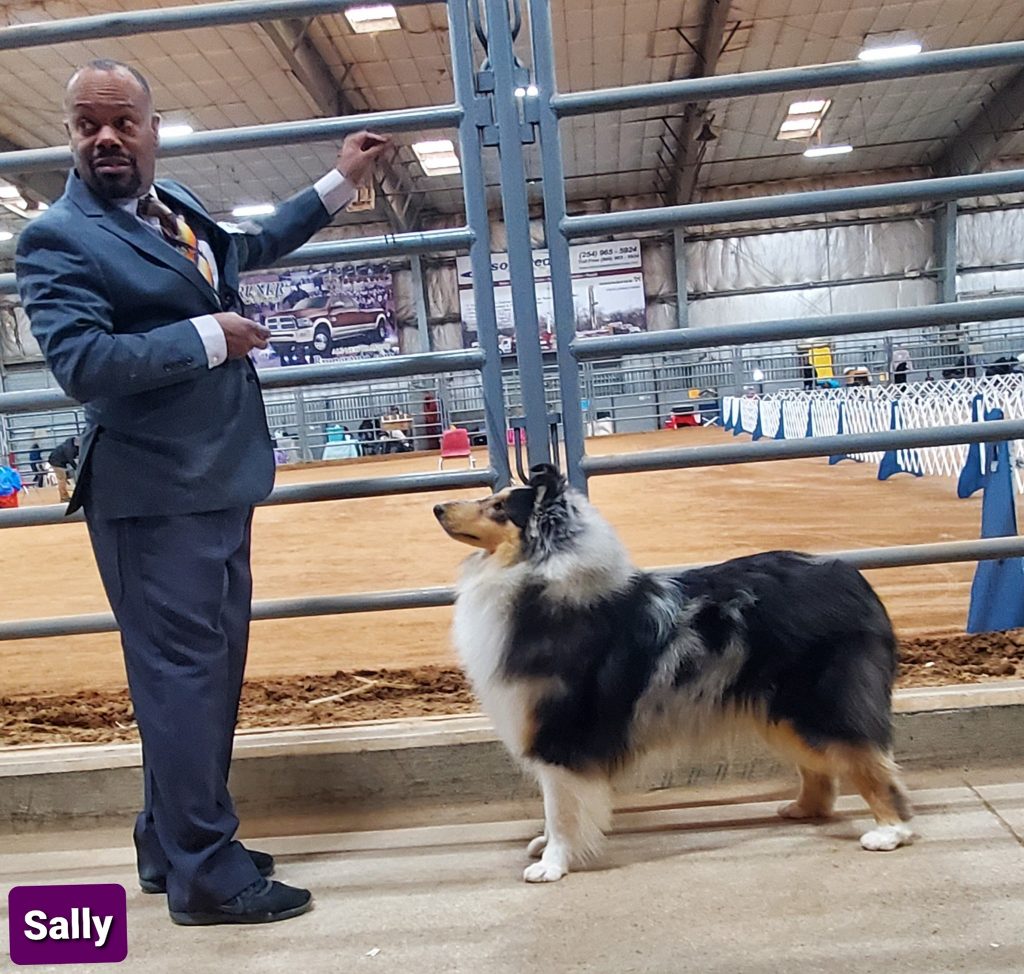 With Queen, Toby and Sally, that makes THREE new champion collies that were born in my whelping box at Tairis Collies that have finished championships in the last 30 days! Wow! Very exciting! I'm so proud of these collies, and grateful to their owners and co-owners that hung in there with COVID restrictions to get them shown.