First off, I have some beautiful puppies here. Second, not much has gone as I expected.
Queen's ultrasound at 30 days showed she was carrying at least 3 live puppies. Queen delivered one big pup on May 5, 2022. She apparently resorbed the other two pups. This happens sometimes for various reasons when pups in the uterus die at an early age. Queen's surviving pup is a big sable girl we are calling Rita. Rita is really cute and doing well. If she turns out as we expect, Queen's co-owner Elaine will most likely keep her. It is especially hard not to get attached to a singleton puppy.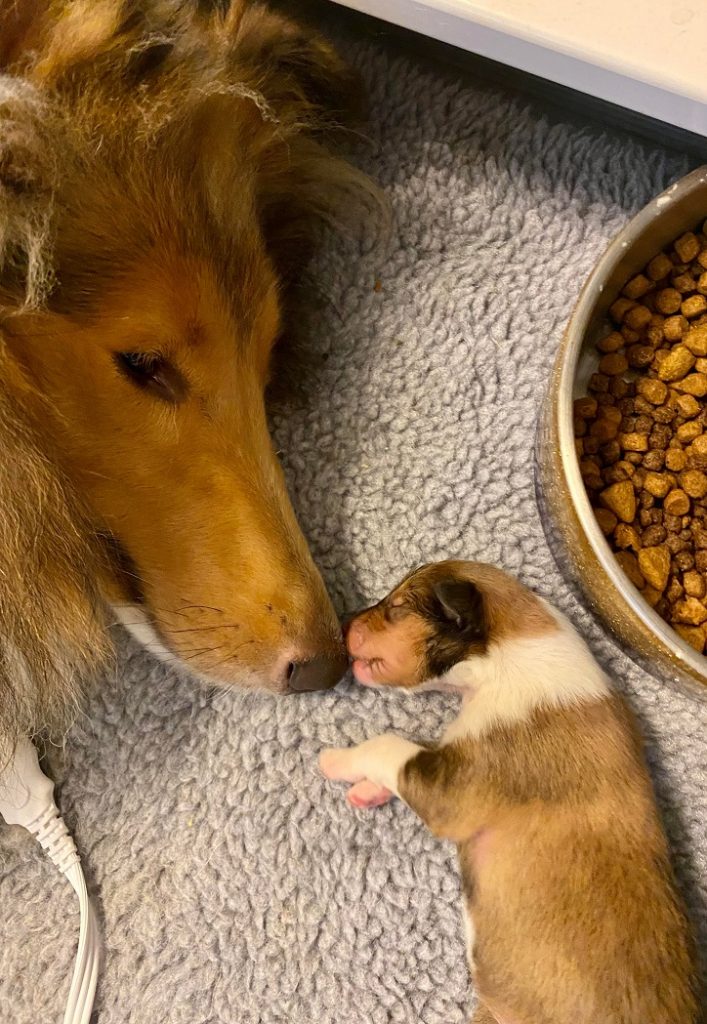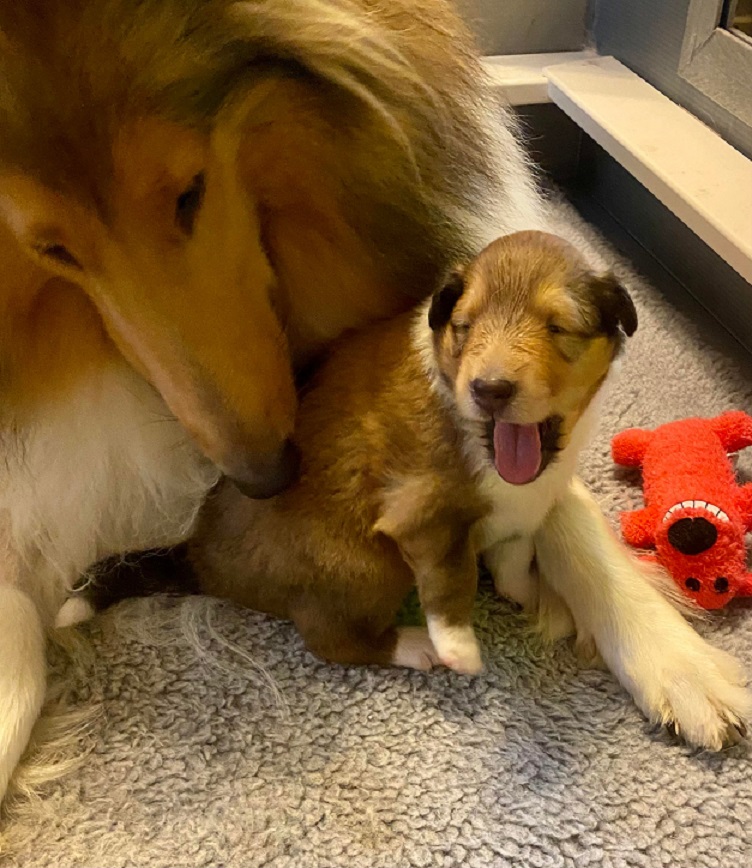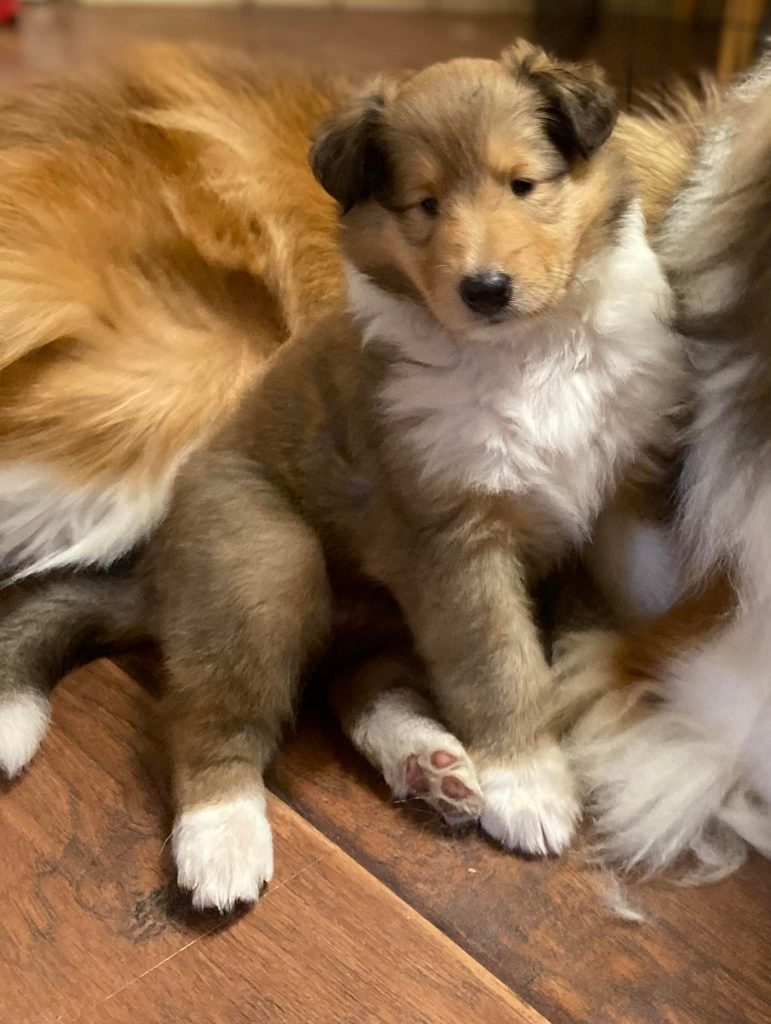 ****************************************************
Queen's mother, Amber, (Ch Milas Tairis Sugar & Spice @ Scalloway) was also bred to Patton (GCH Tairis Runnin' Down A Dream) Amber passed her due date and did not go into labor. I took her to the repro vets at Josey Ranch Animal Hospital in Dallas. I think they are the best in North Texas for reproduction problems. Amber was verified as being late to deliver by her progesterone numbers. Her ultrasound on May 10th suggested that two of her puppies were in distress so I said to go ahead and do a C-section. Amber is a healthy 4 year old and had two previous litters easily so I did not expect delivery of this litter to be a problem. The C-section was done quickly and efficiently. Two vet techs and I rubbed the pups to dry them and get them crying. Amber had eight live puppies- 4 boys and 4 girls. It was very exciting to see the little puppers. We got Amber and the pups in the van as soon as Amber was steady on her feet again. I sat in the back of the van with them to help them nurse on the one hour ride back home while my daughter drove.
All the puppies were nice sized- no teeny ones. I though all was well as they nursed. By the next day one of the sable merle males died unexpectedly. By the following day, two more pups appeared to be fading, so I took them back to Josey Ranch Pet Hospital. They said the pups were getting septic and put them all on antibiotics. I started bottle feeding all the pups around the clock. Amber didn't have much milk. The two pups that had started fading early died. That left us 5 puppies, and that is what we have now. There are three girls- all sables, a sable boy, and a sable merle boy. They are strong puppies. Now at three and a half weeks, I think they will all make it. Only the sable merle male, Jarvis, has any issues. Jarvis aspirated milk into his lungs and developed pneumonia. He is being treated with a new antibiotic. Jarvis, and his siblings all seem strong. They are active and eat with a lot of enthusiasm! If anyone is so inclined, please say a prayer for Jarvis – that his pneumonia will go away quickly and completely. He is adorable.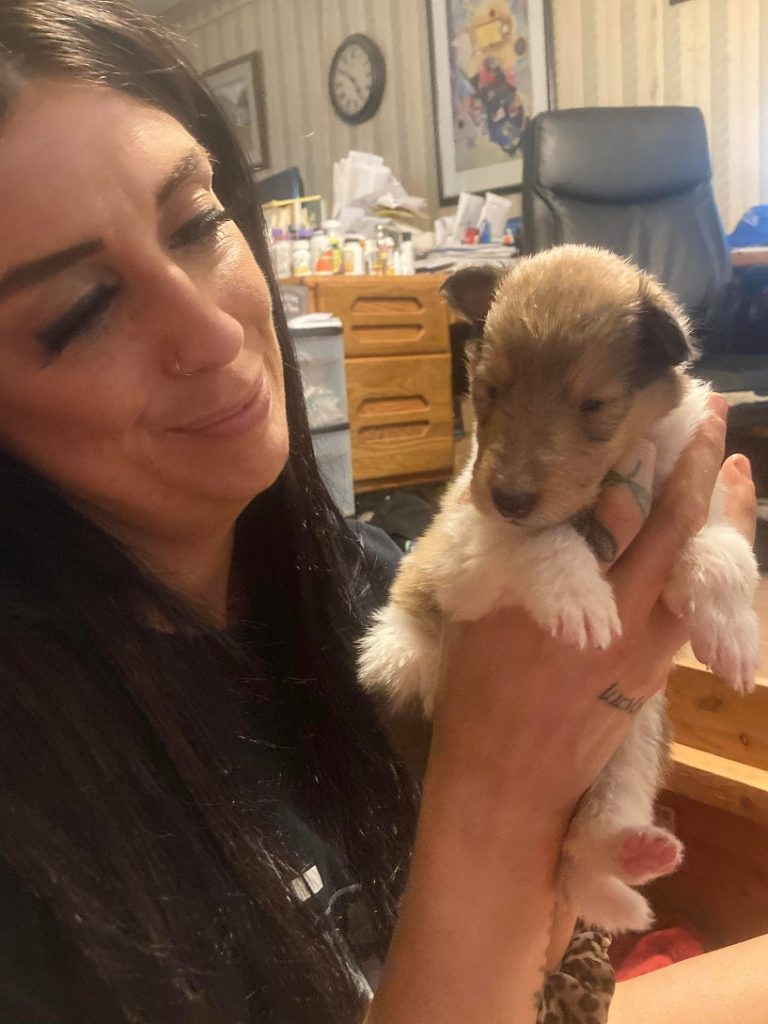 Nova and Star are nearly identical at this age.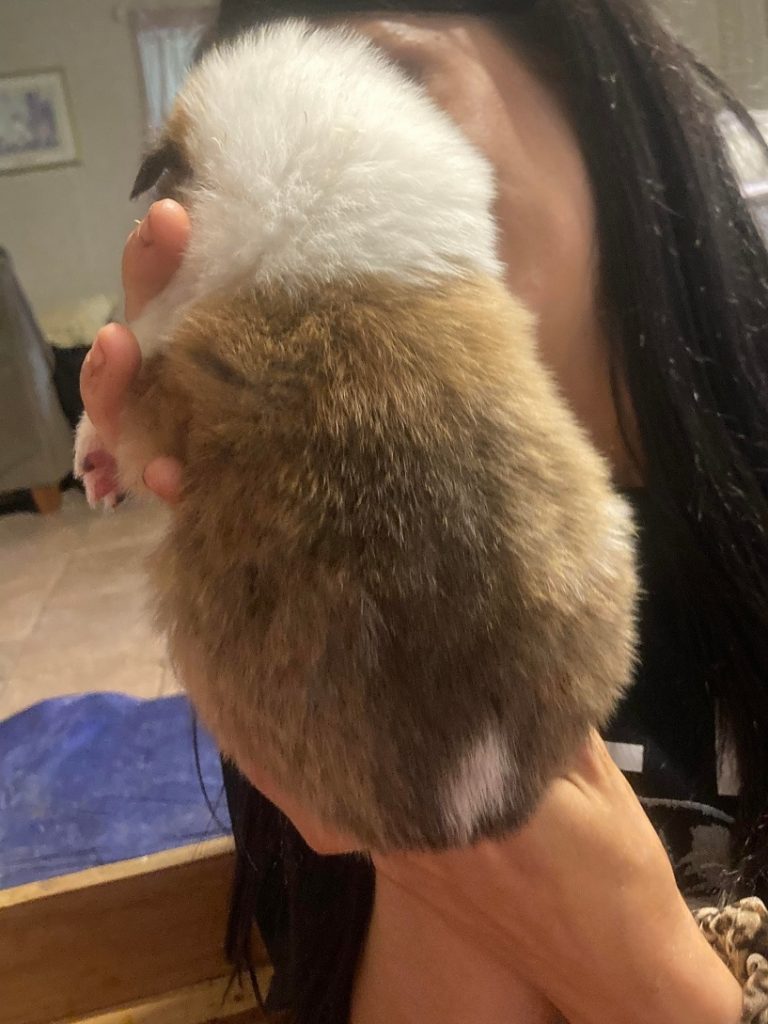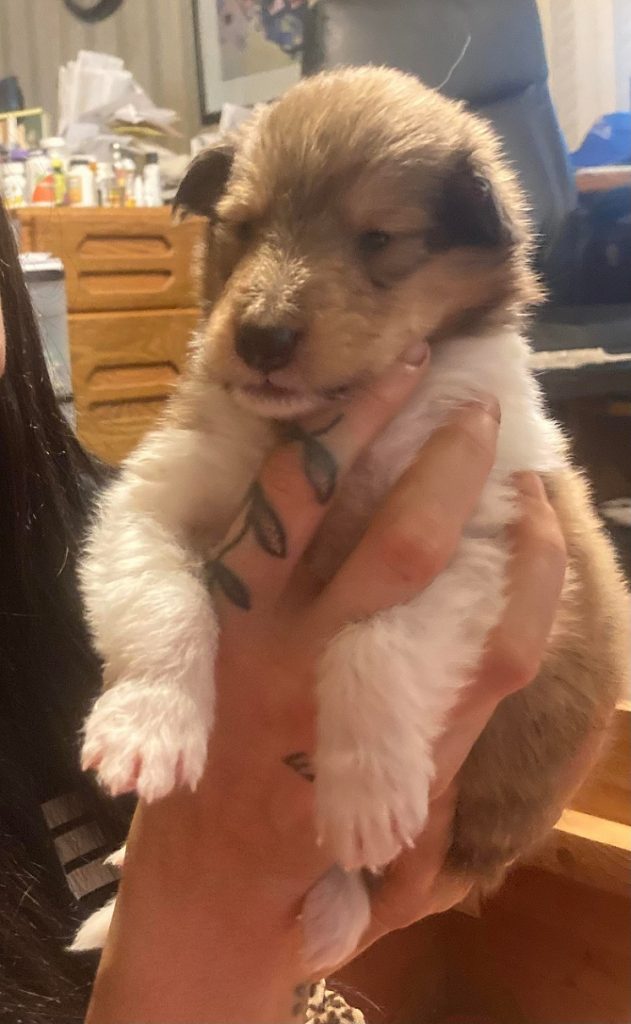 After spending the majority of my time with these babies, and bottle feeding them around the clock for over 3 weeks, I'm in love with all of them. They look really pretty- as they should with such pretty parents. I feel sure that co-owner,Lea Bertsch, and I will each keep a pup. We will have to see how they turn out, and how their health and eye checks go. One of the pups may be available about the third week of July.
If you are a believer, please say a prayer for little Jarvis. He doesn't act sick, but does have some persistent chest congestion.