I don't usually keep boys at my house long term. It makes my life much easier to only have my girls and take them to a great male when I want to breed. The bad side of that is that most of the outstanding collie studs I admire are halfway across the country from me.
My friend, Margie Bount of Commander Collies in South Texas, and I decided we would like to do something about our favorite collie families being so far away. Of course these days, shipping semen is an option instead of shipping our girls across the country for breeding. Unfortunately, collie semen does not always travel well, and conception rates are not great. So Margie and I have bought three puppy boys from three different outstanding breeders to grow out, show, and possibly breed to someday if they turn out as well as we hope. They are living with Margie at her beautiful place near Cleveland, Texas.
The first pup we bought is a tri factored sable boy we call Willie. We purchased him from Susan Joslin of Alcor Collies. Willie's sire is Cheryl Kobularcik's gorgeous boy, Landon (GCH Cherann's Cherokee On Sacred Ground.) Willie's dam is Susan's beautiful tri girl – Florence, aka GCH Alcor's Twisted Sista. Willie has a full sister that already has her championship. In addition, he has four pointed siblings, two of which placed in their classes at the March 2023 national specialty.
Our second boy was purchased from Aurealis Collies. This tri headed white boy we call Cotton is a son of the beautiful GCHS Aurealis Play For Keeps- a three time CCA AOM winner. His dam is the lovely blue girl Ch Aurealis Captivating.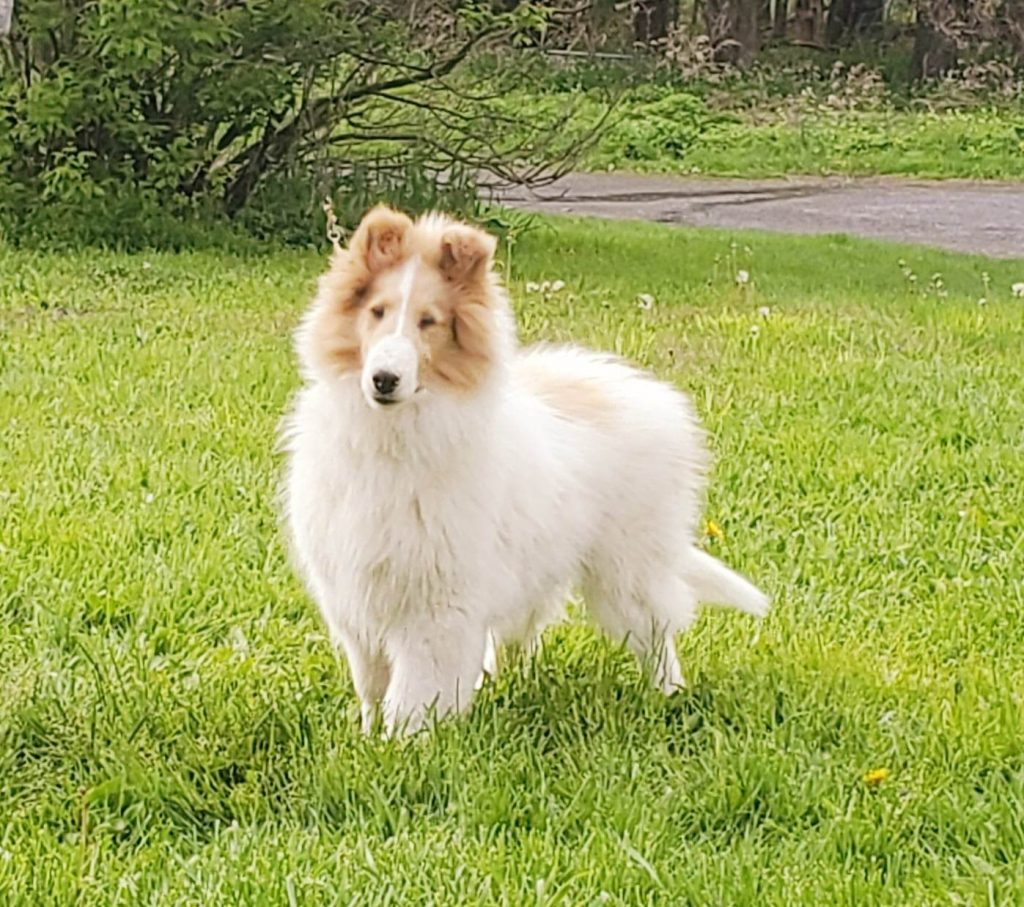 Last but not least we obtained a gorgeous sable merle headed white boy from Milas Collies. Harry's sire is the outstanding Ch Milas Walk The Line ROM, a former CCA winner's dog. Harry's dam is the lovely blue girl, Ch Milas Cando Perfect Pitch. Harry is from a repeat litter. I think five of his older siblings have attained their championships, with specialty wins galore.
These three boys are growing up at Margie's, waiting on cooler weather to get their turn at some dog shows. We have high hopes for all of them. They are adorable puppies!