I'm so sad to report that our breeding of Leena to Charly did not take. Leena was acting pregnant, but the ultrasound showed she had no puppies. This was a big disappointment because the potential puppies from that breeding should have been beautiful. I don't think we will be breeding Leena again.
So we have no puppies on the way. None of our girls are bred, and none are in season yet. I do plan to breed Willa, and Joni when they come in season. Lea and I will probably also be breeding Amber when she comes in season. Hopefully we will have some puppies by early 2021.
Leena is a pretty girl and has shown that she can produce quality. She has a major pointed son from her first litter and a pointed daughter from her litter by the handsome Scarborough's Jagged Edge. Susan Joslin's blue puppy girl from the Leena/ Jagger litter went to her first show and got her first point. She is a cute one. I called her Christmas Carol. Susan calls her Sally.
This corona virus has changed the world in so many unfortunate ways. The loss of life is heartbreaking. The loss of jobs is scary. The limits on social gatherings is a necessary annoyance. In the big picture, I guess the loss of dog shows is not a big deal. I have to admit though that for people that have been going to dog shows for most of their lives, some of us have been going through withdrawal — I guess like enthusiasts of other sports and group activities.
Currently dog shows are very few and far between with greatly restricted entries. I completely understand this is necessary. Entering a dog show these days is like trying to win a hot item on EBAY. You have to be fast on the trigger to get your dog show entry made before the entries close. It is going to be a lot harder to get championships on our dogs. I just hope dog shows will continue in some form. They're a fun, family friendly activity that have brought a lot of great people into my life.
Margie Blount and I are hoping to get our jointly owned boy – Lucas's championship this fall. Lucas was doing so well when dog shows came to a stop last March. We are going to do our best to get those last two points he needs.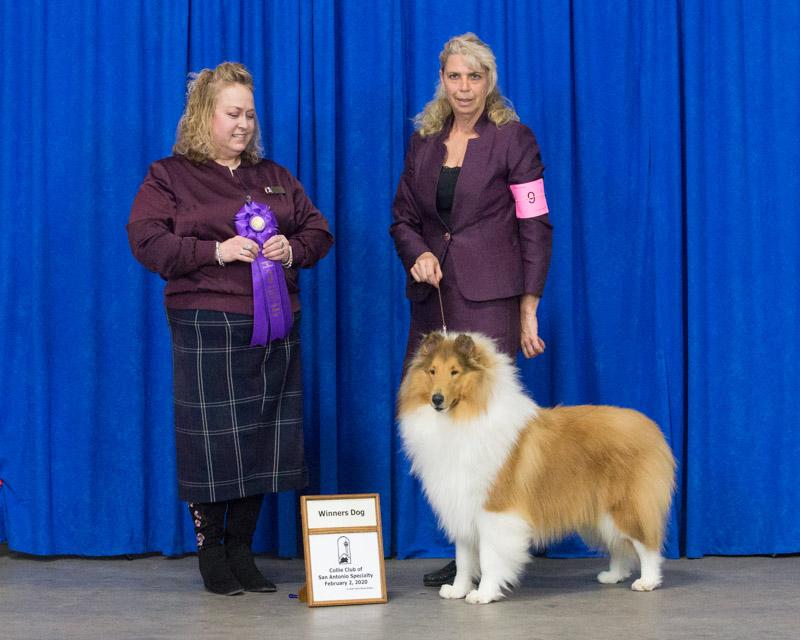 Take care friends.
*** Please just email me if you need to contact me. I am not getting any of the comments from this website like I should. Email Debbie at tairiscollies@yahoo.com